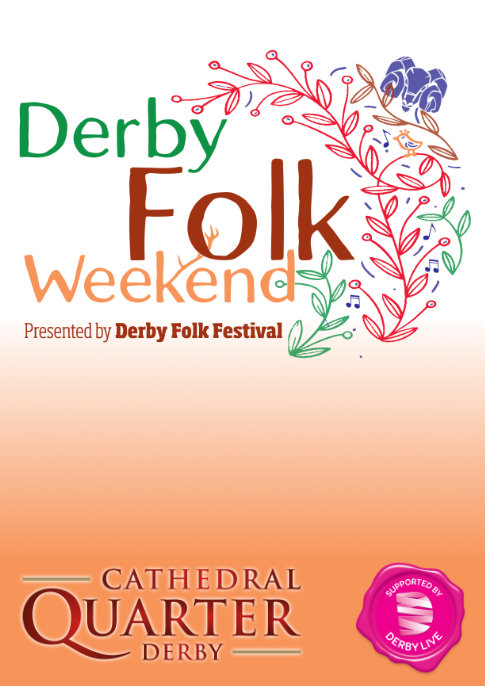 Derby Folk Weekend 2023: Weekend ticket
Location: The Old Bell Hotel
Tickets: £70 or £90 with a donation to the festival, Individual concerts from £10
Join us for the weekend
Derby Folk Festival ran from 2007 to 2022, right in the heart of Derby city centre.
The realities are that after a few difficult years (for everyone!), there are some things that need to change. Finances aren't what they were, and it is no longer possible to sustain the festival in the manner that had previously happened. The festival started life in the Assembly Rooms and Guildhall Theatre, and moved into the marquee after the Assembly Rooms' fire as a temporary measure. That was nine years ago, and continuing with an ad-hoc solution has obviously been even harder with the effects of lockdown.
With all of that in mind, we've taken stock and decided that the best option (in terms of finance and time) is to scale back the event to being a "folk weekend". We did this in 2019 when there was uncertainty about the availability of space and venues, but this time we want to use the time to look at how we can deliver the festival in a more sustainable way in the future.
For this year, we'll have concerts in The Old Bell Hotel Derby from Friday evening to Sunday evening, and these will be sold as a small number of "Weekend Tickets", and then "Individual Concert Tickets" – giving people the opportunity to come to as little, or as much of the festival as they choose. Alongside this will be free music and dance on the streets of the Cathedral Quarter, allowing us to engage with not just those who are in the city for the festival, but those who might otherwise miss all of the fun we'll be having!
Although this is a smaller event, we really need your support this year, to help us put on a great weekend and to build things back up for 2024. Your help here will enable us to pay artists and crew, promote the events, put in all of the infrastructure - and to help us build reserves for 2024 and beyond.
This year's event is in partnership with Derby LIVE, and supported by the very lovely Cathedral Quarter Derby. As with the last few years, there's a huge debt of gratitude to all of the team at The Old Bell who throw the doors open for us. We really do appreciate all of the support.
Derby Folk Weekend 2023: Advance Supporter Ticket
---
Fri 29 Sep 2023, 7:30pm
£42
This option has now sold out.
Derby Folk Weekend 2023: Weekend Ticket
Fri 29 Sep 2023, 7:30pm
£70
We think you might also enjoy...