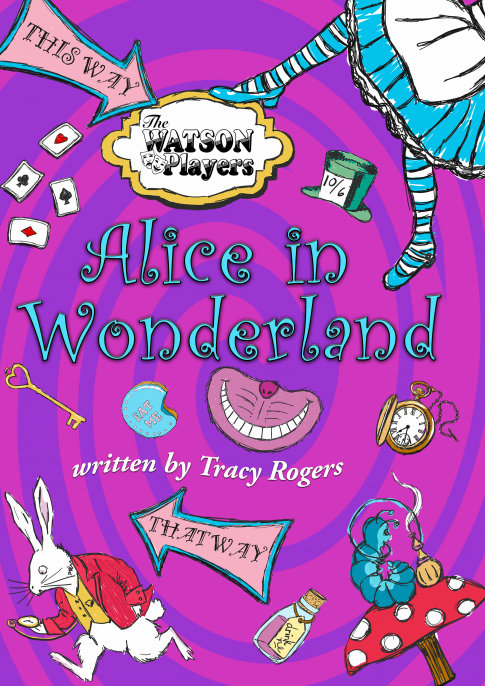 Alice in Wonderland
Location: Landau Forte College Theatre
Tickets: £15 - £12
Most tickets cost more when booked via telephone or in person at box office. See our Ts & Cs for details.
Running Time: 2 hours 30 minutes - approximate, including any interval(s).
Alice in Wonderland Pantomime
Alice is having a boring day with her Governess, Nora Know-it-all.  After being given a book to read, Alice falls asleep... or does she?
Alice soon finds herself in a wonderland, full of crazy colourful characters.  She meets a very bored and naughty Joker.  He is set on causing as much trouble for Alice and Nora as he can, to liven up his very boring life!
Can Alice and Nora keep out of trouble and avoid the Queen of Hearts wrath?
Will the Mad Hatter, March Hare and Dormouse help or hinder them as they make their way through Wonderland?
Join us, as Alice and Nora meet the Cheshire Cat, Tweedle Dum and Tweedle Dee, and a whole bunch of adorable, if slightly bonkers characters.
This is a lively pantomime, full of fun and laughter for all ages.
So join Alice and Nora as they follow the White Rabbit through the rabbit hole and into a great adventure!
£15 - £12
Concessions:
£12
Concessions are typically available to over 60s, under 16s, students, unemployed and disabled people. Click Buy Tickets to see what concessions are available for this event, and for more price information and availability. Children 12 months and over require a ticket, unless otherwise stated. Proof of entitlement to concession may be required on collection of tickets or on entry to the event.
Offers
Take advantage of one of the following great offers for this event.
Groups 12 or more 10% discount
Save 10% when you book 12 or more ticketsApplicable on all tickets, all shows for Alice in Wonderland
If you hold a membership subscription you may be eligible for discounts. Log in and these will be applied to your order automatically.
We think you might also enjoy...