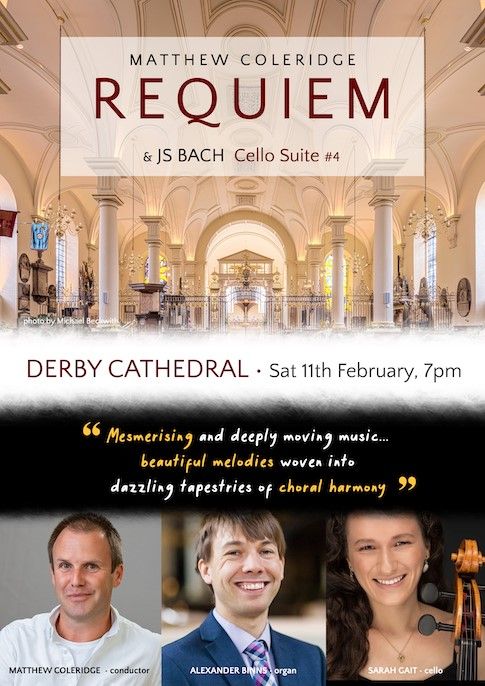 Requiem Concert
Location: Derby Cathedral
Running Time: 1 hour 15 minutes - approximate, including any interval(s).
One of the most beautiful choral works of the 21st century will be performed at Derby Cathedral on 11th February, in a concert conducted by the music's composer.
Choral singers from around the Midlands will gather to perform Matthew Coleridge's sublime Requiem, described by audiences as 'mesmerising, glorious and deeply moving'.  They'll be joined by rising cello star Sarah Gait, who will play the Requiem's soaring cello solos, as well as performing JS Bach's timeless 4th cello suite.  The concert is part of a nationwide cathedral tour by the composer, to launch a new album of his choral works by the Choir of Royal Holloway. "It's an exciting way of bringing my music to new audiences" said the composer. "Singers come from near and far to rehearse for the day, and you can feel the sense of excitement grow throughout the choir as the music comes to life. It can be quite an emotional experience - there's usually a tear or two shed during performances, as well as tunes sticking in your head for days afterwards!"  The choir will be accompanied by the cathedral's Director of Music Alexander Binns at the organ, and Welsh soprano Sarah Jane Griffiths will sing the Requiem's haunting Pie Jesu solo.
We think you might also enjoy...