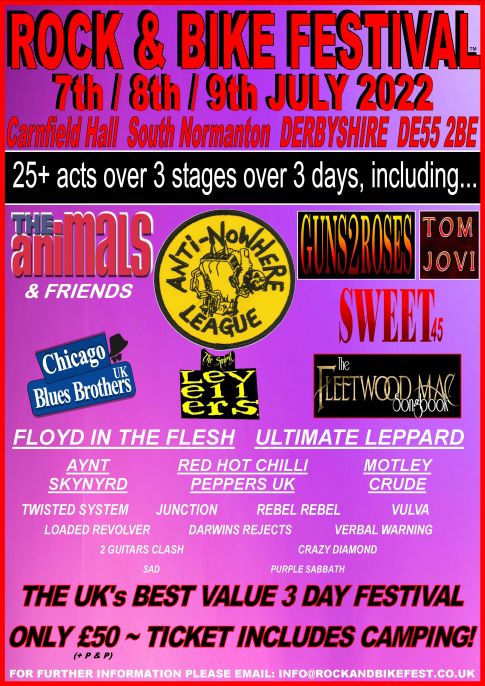 Event
Rock and Bike Fest 2022
Location: Carnfield Hall, South Normanton, De55 2BE
Tickets: £52.50
Most tickets cost more when booked via telephone or in person at box office. See our Ts & Cs for details.
Ticket includes weekend camping
Running Time: 72 hours - approximate, including any interval(s).
Established in 2004 in the grounds of Burton Abbey, Staffordshire the Rock and Bike Fest has gone from strength to strength and is currently held in the historic grounds of Carnfield Hall, South Normanton , Derbyshire – just 1 1/2 miles from the M1, J28 with easy access to public transport links, trains, and bus routes with onsite parking.
Every ticket includes free camping for the duration and kids under 13 go free (accompanied by an adult). Designated area for disabled and blue badge holders with an abundance of clean & hygienic toilet facilities.
With a family-friendly atmosphere, top catering with foods from around the world, array of stalls, activities inc Kids Korner with cinema, crafts and competitions across the weekend.
Including our famous Custom, Classic Bike & Trike Show with trophies and cash prizes, Tattoo Competitions, Fancy Dress, Karaoke & Acoustic Marquee there is something for everyone.
This years festival line up
THE ANTI NOWHERE LEAGUE
THE ANIMALS AND FRIENDS
FLOYD IN THE FLESH 
FLEETWOOD MAC SONGBOOK
TWISTED SYSTEM
the UK CHICAGO BLUES BROTHERS
TOM JOVI & BAND
RED HOT CHILI PEPPERS UK
GUNS 2 ROSES
AYNT SKYNARD
ULTIMATE LEPPARD
SWEET45
THE SPIRIT LEVELLERS
MOTLEY CRUDE
REBEL REBEL
JUNCTION
V.W.
2 GUITARS CLASH
VULVA
CRAZY DIAMOND
LOADED REVOLVER
DARWINS REJECTS
SAD
PURPLE SABBATH
The site does not allow bonfires, or burning of waste/rubbish etc.
BBQ's are allowed at organisers discretion
No glass bottles allowed on site!
No personal alcohol to be brought into the Licensed Arena
Rock and Bike Fest 2022
Thu 7 Jul 2022, 12pm
£52.50
We think you might also enjoy...