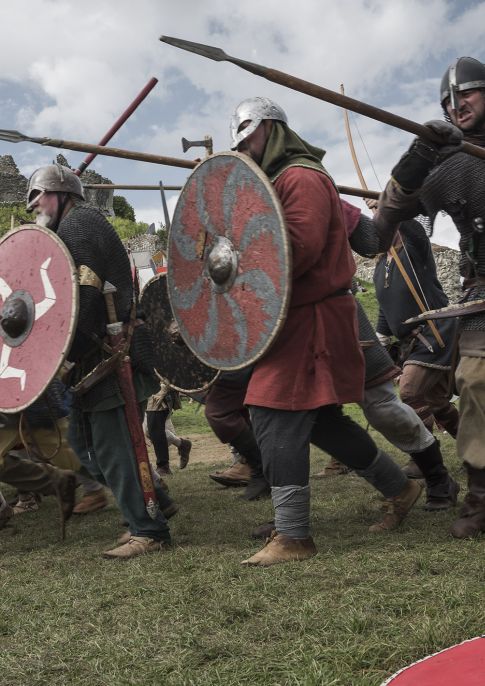 Event
The Viking Festival
Tickets: £10
Most tickets cost more when booked via telephone or in person at box office. See our Ts & Cs for details.
Please access the festival via A6096 entrance
Running Time: 7 hours - approximate, including any interval(s).
Step back in time this June and experience the life and times of Viking-age Britain at a celebration of life as it was experienced over 1000 years ago. The Vikings!, the oldest and largest early Medieval re-enactment society in the UK, and probably the world, invites you to help us celebrate achieving over 50 years of portraying Viking warfare, village life, crafts, and trades. Our event begins for preregistered school groups on Thursday 23rd June. We will be offering the history lesson of a lifetime as children meet king Cnut and help him establish his new English kingdom. On Saturday 25 and Sunday 26th June we offer you the opportunity to wander through our Viking encampment, starting with the boatyard by the lake, where Viking ships await repair and fishermen mend their nets, through the vibrant Viking market where traders in all manner of exotic goods await your custom, into the military area, where mailed warriors will display their weapons and armour. Craftworkers will demonstrate their tools and skills, examples of which will include leather-working, blacksmithing, spinning, and weaving. Learn how Vikings and Saxons cooked over open fires and see the meals they prepared and ate. In the arena, there will be stunning displays of horsemanship, missiles (archery, slings, and javelins), and skirmishes using the weapons of the period. Children will be able to participate in a shield wall drill, learn a warrior's skills and attack a Viking shield-wall, whilst there will be Have-a-Go archery available for all ages to take part in. Finally, the day will culminate with the epic Battle of 1000 Spears – with what will be the largest Viking battle on British soil since the Vikings last invaded our shores as Anglo-Saxon Mercia clashes with the Great Pagan Army at Derby.

About The Vikings
Re-enacting the life, times, and battles of 8-11th century Britain, The Vikings! is the UK's oldest and largest Viking-age society, with branches across Britain, Europe, the US, and Canada. The Vikings is a re-enactment society dedicated to recreating the life and times of the early Medieval period, not only the battles and skirmishes but also the dress, crafts, and every-day life of the different peoples of that time. We portray events from the famous Viking raid at Lindisfarne in 793AD to the Norman Invasion of 1066 where William claimed the crown of England after the Battle of Hastings and provide costumed personnel for talks/educational displays at museums, school visits, small community events through to large-scale re-enactments involving several hundred members. Our aim is always to provide an accurate and educational portrayal of the period whilst ensuring a memorable and enjoyable day out for those who come to watch our events. The Vikings is an educational charity (reg. 1062495) in the UK.
The Viking Festival
Sat 25 Jun 2022, 10am
£10
Sun 26 Jun 2022, 10am
£10
£10
Concessions:
£7.50 - £5
Concessions are typically available to over 60s, under 16s, students, unemployed and disabled people. Click Buy Tickets to see what concessions are available for this event, and for more price information and availability. Children 12 months and over require a ticket, unless otherwise stated. Proof of entitlement to concession may be required on collection of tickets or on entry to the event.
Family tickets - £25
Offers
Take advantage of one of the following great offers for this event.
Family Ticket - £5 saving
Save £5 with a family ticketAdd 2 standard and 2 under 16s tickets to your order to save £5.
If you hold a membership subscription you may be eligible for discounts. Log in and these will be applied to your order automatically.
We think you might also enjoy...